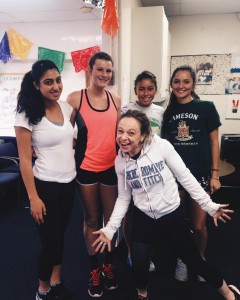 Fall 2016 HIIT Schedule:
Time: Tuesdays 2 pm – 3pm
Dates: Sept 27th – Nov 22nd EXCEPT for Oct 18th, will have one Saturday class on Oct 8th at 1:45 pm at the Pardall center. 
Location: A.S Pardall Center
High intensity interval training (HIIT) is a type of interval training in which you alternate short, very high intensity intervals with longer, slower intervals to recover. Especially with the help of many of our student's FAVORITE fitness instructor, Rhian Jacques, you will quickly burn calories as you flow through a variety of exercises to sculpt and tone your body into shape! The HIIT workout targets core, upper body, and lower body through both cardio and high intensity exercises. Examples of exercises include: squats, push-ups, sit-ups/ab work-outs, plank, mountain climbers, tricep dips, and burpees.
The High Intensity Training is for all levels. No previous experience needed, just come ready for a great and fun work out!