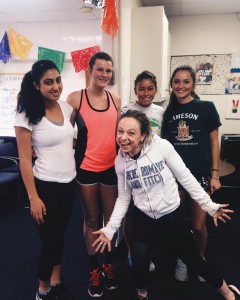 Spring 2016 Free Fitness Schedule:
Time: Tuesdays 1:45-2:45pm
Dates: March 29, April 5, April 12, April 19, April 26, May 3, May 10, May 17
Time: Saturday 1:45pm – 2:45pm
Dates: April 16
Location: A.S Pardall Center
High intensity interval training (HIIT) is a type of interval training in which you alternate short, very high intensity intervals with longer, slower intervals to recover. Especially with the help of many of our student's FAVORITE fitness instructor, Rhian Jacques, you will quickly burn calories as you flow through a variety of exercises to sculpt and tone your body into shape! The HIIT workout targets core, upper body, and lower body through both cardio and high intensity exercises. Examples of exercises include: squats, push-ups, sit-ups/ab work-outs, plank, mountain climbers, tricep dips, and burpees.
The High Intensity Training is for all levels. No previous experience needed, just come ready for a great and fun work out! And guess what? Everybody gets a FREE Blenders smoothie at the end of your work
More about Rhian (instructor):
Rhian Jaques has been coaching fitness classes since 2006. She was a professional modern dancer for 10 years in NC and has her MA in Dance Performance from UNCG. Currently Ms Jaques instructs indoor cycle, total body conditioning, senior and teen fitness, yoga, mat pilates, and TRX. She teaches at the Montecito YMCA, Bay Club Downtown SB, Montecito Yoga Co, Carpintera Athletics, as well as UCSB.
You can use our